You could be next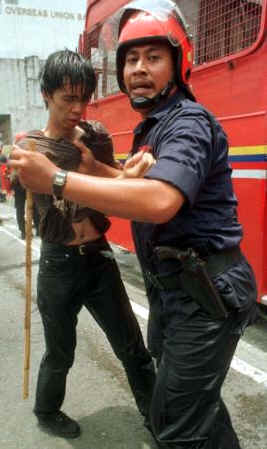 Report: Police to Get New Equipment to Combat Rising Protests


AP
24-APR-99

KUALA LUMPUR, Malaysia (AP) -- Malaysian police will soon get new equipment to help them deal with an increasing number of anti-government protests, a news report said Saturday.
The new equipment will include water cannons, riot shields and helmets, the New Straits Times quoted Malaysia's police chief, Norain Mai, as saying.
Much of the police force's current equipment and vehicles are old and weak, including protective shields which could easily shatter if hit by hard objects, the police chief said.
Protests have rocked this usually placid Southeast Asian capital since Anwar Ibrahim was sacked last September as Deputy Prime Minister and later arrested.
Last week, after Anwar was sentenced to a six-year jail term for four counts of abuse of office, his supporters fought with the police on the streets of downtown Kuala Lumpur, throwing homemade bombs and smashing cars.
More than 100 people have already been arrested for rioting, and police have sought public help to locate 40 others who were photographed in the act of protesting by news cameramen.
The New Straits Times began publishing the pictures of the wanted people on Friday, accompanied by a phone number of a police officer who could be contacted about the matter. Informants' identities would be kept secret, the daily said.
Anwar, 51, may be tried soon for six other charges of corruption and sodomy. He has denied all the charges, saying they were trumped up to end the political challenge he posed to his former boss, Prime Minister Mahathir Mohamad.
Copyright 1999& The Associated Press. All rights reserved. This material may not be published, broadcast, rewritten, or redistributed.

© 1999 Cable News Network, Inc. A Time Warner Company
All Rights Reserved. Terms under which this information is provided to you.
Read our privacy guidelines.