Sunday, October 18, 1998
Police disperse protesters at Istana
KUALA LUMPUR: Thousands of demonstrators who gathered in front of Istana Negara last night calling on the Yang di-Pertuan Agong to intervene in the country's political situation were dispersed by police.

Some 140 people, including 17 women, were picked up by police. A Reuters photographer was also picked up for questioning but released two hours later.

About 600 police personnel from the Federal Reserve Unit, General Operations Force, plain clothes and general duty policemen, were mobilised to disperse the demonstrators. They used water canons, rotans and shields.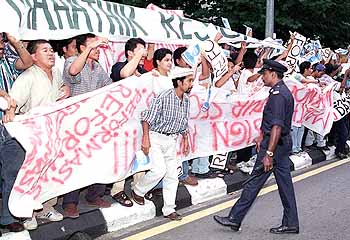 DEMO . . . a section of the demonstrators in Jalan Tuanku Abdul Rahman yesterday.


One of the demonstrators told reporters that they wanted the King to dissolve Parliament and call for fresh elections.

He said they also called for the resignation of Prime Minister Datuk Seri Dr Mahathir Mohamad and for Datuk Seri Anwar Ibrahim to be reinstated to his former posts.

The crowd, which had earlier gathered at the National Mosque after Maghrib prayers, was prevented from sending a memorandum to the King when police moved in at 9pm.

The protesters had started gathering at Jalan Tuanku Abdul Rahman at 4.30pm carrying placards expressing support for Anwar and calling for political reforms.

Police were initially unable to break them up as they included students, women and children.

At about 6pm, Anwar's wife, Dr Wan Azizah Ismail, was seen being driven past in a multi-purpose vehicle, waving to the crowd through the sunroof with her eldest daughter Nurul Izzah inside the vehicle.

Ten minutes later, police started dispersing the crowd, which then moved on to the nearby National Mosque. At 8pm, they formed a human chain and moved to Istana Negara.

At press time, the demonstrators had dispersed but heavy police presence was maintained at Jalan Tuanku Abdul Rahman, Jalan Raja Laut, Jalan Raja and the National Mosque.

City police chief DCP Datuk Kamaruddin Ali told reporters that police were trying to ascertain who had organised the demonstrations.